EagleMMS is a Materials Management System that allows you to effortlessly track consumable material usage for every repair order. Once your material checkouts are captured by EagleMMS, you can automatically generate invoices to deliver to insurance companies on a per repair order basis for the exact cost of all materials used. This means that your business is reimbursed for the exact cost of the consumables as well as markup.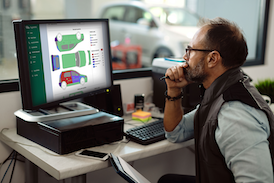 Everything you need
In addition to providing accurate repair order material usage invoices, EagleMMS also enables you to manage all aspects of material management at your shop.
Low inventory reporting

Technicians can report low or out of inventory items so that you can order more inventory before running out.

Metrics

You can analyze your data of what materials are being used, by whom and at what rate, in order to better optimize your production process.

Accessibility

EagleMMS is web based and does not require any cumbersome mobile or desktop applications. Access your shop's information and perform your job right from your phone.

Invoice anything and everything

EagleMMS is not tied to any particular material manufacturer or supplier. Enter any and all materials that you use into EagleMMS for easy tracking and invoicing.

Low overhead

When we designed EagleMMS, a critical objective was to have a product that was extremely fast and streamlined. That's why it takes less than 5 seconds (start to finish) to add material usages to repair orders.

Business forecasting

Understand how much your business is spending on materials and how much revenue your shop is bringing in over time to better prioritize business objectives.
A materials management system is used to track and invoice the paints and materials your shop uses to repair vehicles.
In addition to tracking material usage, our material management system allows you to estimate repair using your inventory.
Create an account and get started in less time than it takes to brew a cup of coffee!
Sign up today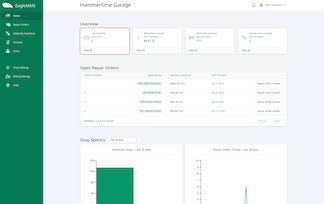 EagleMMS gives you the robust tools you need in order to effectively estimate and invoice material and paints costs for repair orders.
Estimate paint and material costs

Estimate all your paint and material costs in just a couple of minutes.

Tailored for your shop

We generate estimates and invoices based on the paints and materials in your shop and how you perform repairs.
Getting started with EagleMMS is easy and straight forward. After adding all of the materials that you want to track into EagleMMS, you'll be able to generate QR tags to put near your materials. With your QR tags in place all technicians need to do is:
Admin makes selections in calculator

Paints and operation kits are allotted based on the repairs that need to be performed.

Technician scans QR tags

Technicians scan material QR tags to add additional materials to repair order.

Provide checkout details

The technician selects the repair order and the quantity used.

Added to invoice

After the scan is completed, the repair order invoice is automatically updated.

Get paid

Submit your EagleMMS invoices to get adequately reimbursed.
Understanding what your business spends money on and how much every month is critical to running a tight and efficient operation. Luckily, EagleMMS has your back and makes sure you have the business insight you need.
Track material cost

Know how much you are spending on what materials for each repair order and how that changes over time.

Track repair order revenue

Track how much revenue is brought into the business over time and what the throughput of the business is.